E-commerce and Money Coach
"iF YOU WERE NOT BORN INTO WEALTH IT IS NOT YOUR FAULT BUT IF WEALTH DOESN'T COME OUT FROM YOU IT IS YOUR FAULT."
Bisi Akintayo is a Speaker, Entrepreneur, Business Coach & Author.
She has successfully trained over 6,000 persons (home and abroad) on e-commerce (Mini- importation) with tangible and productive results.
Bisi Akintayo is the Managing Director (MD) of Ginido LLC; a company with five different subcategories- Ginido Fashion, Ginido Groceries, Ginido logistics, Ginido Teller and Saphire Outlook; the MD/CEO of Bisi Akintayo Consult – a consulting and training firm on e-commerce and digital marketing.
YOU CAN TURN YOUR DREAMS TO REALITY
It didn't take me long to discover that what many people call window shopping is actually going to look at things they can't afford simply because they have not worked hard enough.
They look at those things for as long as possible and then finally walk away in depression because they don't have the money to buy it.
Worst still, they are not even sure when they'd have the money to be able to buy them.
These category of people have a poverty oriented response they give each time they're asked 'I saw you at the car shop this evening, what were you doing there?' They hurriedly say 'Oh, i just went to feed my eyes'.
If only they knew better.
The best way to feed the eyes is to keep before you or beside you bed pictures of where you want to be soon enough in life,
And keep looking at it morning and night while you work hard to make it a reality.
Feeding the eyes to depression will only weary the mind and the man to total retardation.
Anything you fantasize about which you're not willing to work for will be just a dream not a reality.
Your dream will only become your reality if you know what to do per time. If you desire to make more money than you are presently
I would be teaching you how you can start this business without any start-up capital. It's going to be a very beneficial session and I can't wait to have you onboard
I have trained several people to millions in this business and you can also become one of them
You can turn your dreams to reality.If you haven't considered E-commerce which can be done with a little Capital after getting trained then you need to start today.
WHAT DO I SET TO LEARN AT THE TRAINING
Starting Importation Business with Zero Capital
■Over 30 E-commerce Website to source for items cheaply
■How to Avoid inferior items
■Starting an Online Business without using your own Money
■Networking with Manufacturers to start your brand
■ Facebook Ads strategies that make me 6-figures
■How to open an Ad Manager Account
■How to retrieve a ban account
■How to fund your Facebook account at ease
■How To ban derogatory words from Facebook
■How to scan your content before you run ads to avoid Facebook blocking your page
Instagram Mastery :
■How to Rank your SEO on Instagram and enable more sales.
■Instagram Ads to bring in more sales .
■How to use Reeks & IGTV for more Sales
■How to embed all your links in one Link on IG
■How to make 6 figures Monthly from your Instagram Account
We have Compiled most frequent questions asked and our answers to them
Testimonial From My Mentorship Students
"My name is Onyedikachi Ogidinta. I am an entrepreneur. The training course I had was a wonderful one. It opened my eyes to an aspect of business I am interested in. With this I will keep growing my finances. Thank you Madam Bisi Akintayo and Crew".
what I have gained from you in a short time is giving me Joy. Let me say this, I never know how to run a converting Facebook and Instagram ad before I joined your coaching but you won't believe that my last ad is still running on 0.5 naira cost per post engagement. I have numerous testimonies about how I created landing pages myself, designed logo and many more.. The value gotten is far beyond what I paid for and I want to say, God bless you ma'am. .
'The salary I used to earn was too small to meet all of my needs. I keep searching on what to do in other to gain financial freedom, fortunate for me, I saw Mrs. Bisi Akintayo's video online and I decided to go for her training with the little money available on me at that time. The training Course was a life-changing one..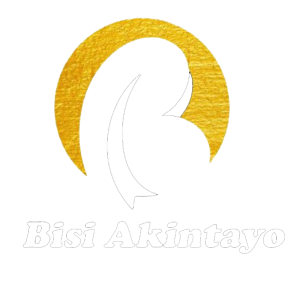 +234 702 500 4706
info@bisiakintayo.com
Address:16b, Babatunde Ladega, Omole Phase 1, Lagos Nigeria