ECOMMERCE
MASTERCLASS DUBAI
"IF YOU WERE NOT BORN INTO WEALTH IT IS NOT YOUR FAULT BUT IF WEALTH DOESN'T COME OUT FROM YOU IT IS YOUR FAULT."
Trust me poverty sucks
You wake up in the morning, you look at your bills staring at you in the face or you just cleared some important bills only to discover more awaits you from your spouse, children, parents, friends, loved ones, and the society who feels you owe them.
The truth is money often is never enough but we can do our best to have more than one source of income to cater and meet our needs.
A couple of years ago I literally depended on only what I was getting from my spouse and this was not the type of life I wanted. I wanted to raise my kids and get a job that won't take me far away from them but unfortunately, I could not get any reasonable job.
Unlocking the gold mine in Ecommerce Business
Unlocking the goldmine in Ecommerce Business
On our (I and my husband) First visit to Dubai together, my husband and I toured the Burj Khalifa, the world's tallest building. At that moment, he held my hands and said "One day we will be able to live here. And now, it has come true, as we have found ourselves living in none other than the Burj Khalifa.
What is your dream? Are you ruggedly pursuing it? Or are you just fantasizing about it and doing nothing?, Do you wish to continually dwell in 'not being able to afford' what you want?"
Poverty sucks! Yes it does. But are you willing to get out of it to actually make that change that you want. Are you going all way out to make your BIG dreams come true?.
Men and women of Dreams must be committed to pursuit of the dream if it will come to pass. Dreams are good but pursuit is better. Invest in the pursuit of knowledge that will help you become a better person.
E-commerce is one thing that can help you achieve all these and more. I'll be holding another edition of the E-commerce Masterclass, 
The interesting thing is that it's physical! Yes, Physical.
Training program is valued at 250dhs. Use coupon code (ECOMDUBAI) to gain free Access
Here is what you will be learning during the training:
A-Z on Starting A Successful Importation Business
The rationale behind why people buy
How to start a profitable
E-commerce Business with little or
No Capital
How to import products
directly from manufacturers
How to sell your products
Before they arrive
Shipping and how to cost
Your Products
Creating a brand for your
Business
How to sell your products
Without running advert
 Using influencers without
Breaking a bank
Targeting the right customer
That will buy from you.
How to promote your
Products on Social Media
Whatsapp and Telegram
Community to increase
Sales
3 weeks of access to a community you can ask questions and get support this cost $274 (1,007AED) but you will get this for free for signing up today.
You will also get the soft copy of my book "THE SELF- MADE ENTREPRENEUR HOUSEWIFE" for $28 (101AED) once it is launched for Free.
"I am an entrepreneur. The training course I had was a wonderful one. It opened my eyes to an aspect of business I am interested in. With this I will keep growing my finances. Thank you Madam Bisi Akintayo and Crew".
'The salary I used to earn was too small to meet all of my needs, I saw Mrs. Bisi Akintayo's video online and I decided to go for her training with the little money available on me at that time. The training Course was a life-changing one..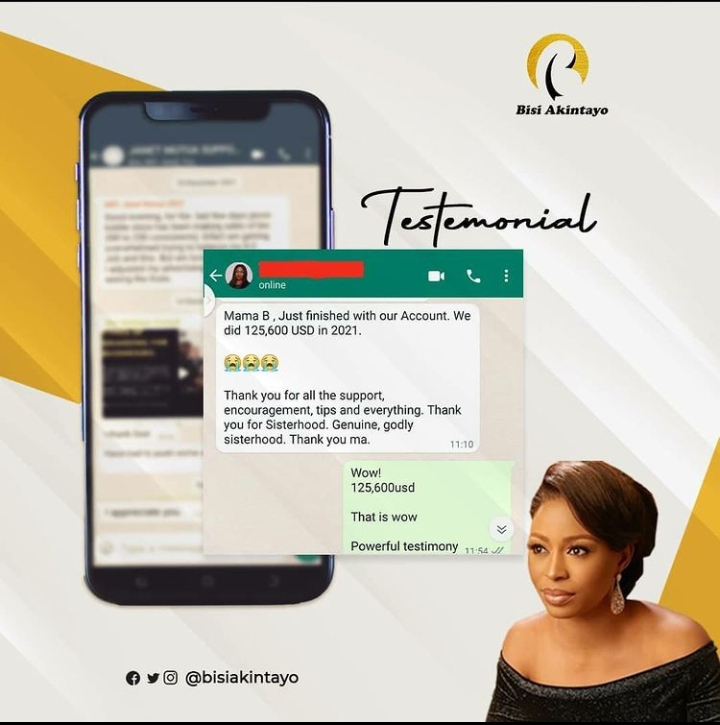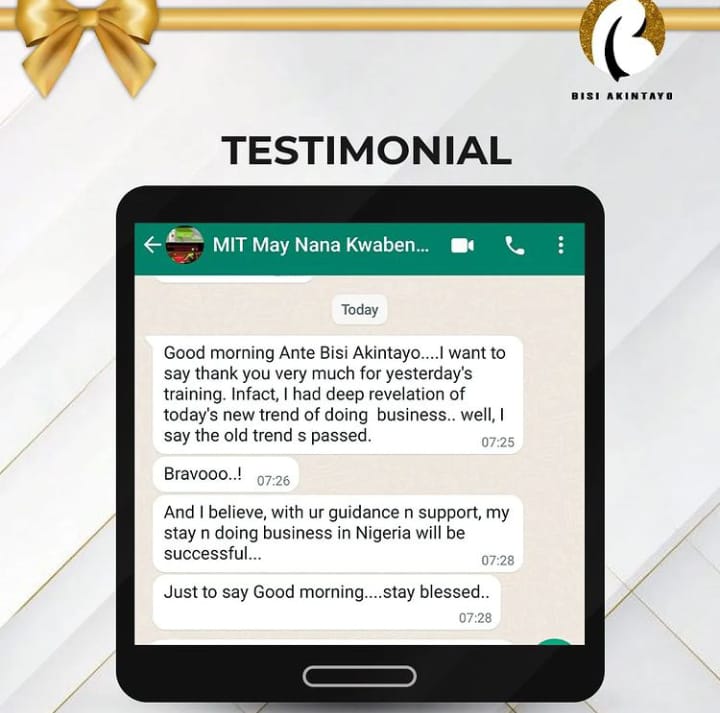 We have Compiled most frequent questions asked and our answers to them
The Masterclass is set to hold Saturday April 29, 2023, 12pm (UAE🇦🇪)
Masterclass holds at  2404 Almoosa tower 2 Shiek Zayed Road

This is a free training program valued at 1000usd
+234 702 500 4706
info@bisiakintayo.com
Address: 309Cl, Ondo street, Banana Island, Ikoyi, Lagos state