E-commerce and Money Coach
What you do today determines the result you get tomorrow
I wonder what life would have been if I didn't take that bold step to venture into E-commerce.
Yes , you heard me.I am not saying my husband is not doing his best for me but I won't have been fulfilled waiting on him for every little penny .
E-commerce was a deal breaker for me.For years I wished for a change but never got one because all I did was wished and I tell you from experience wishes don't change anything.
I started my E-commerce business with $56 dollars 7 years ago and focused on Importation business from my bedroom. Today I have not only made Millions from E-commerce business I have also made others Millionaires in same industry , having trained over 10,000 people Globally.
I have put together my courses on Importation , Exportation , Facebook ads , Sales Bootcamp and Branding for you at a discounted rate.
All this course goes for 500usd but I am giving you at a give away price of $47usd today.
Bisi Akintayo is a Speaker, Entrepreneur, Business Coach & Author.
She has successfully trained over 6,000 persons (home and abroad) on e-commerce (Mini- importation) with tangible and productive results.
Bisi Akintayo is the Managing Director (MD) of Ginido LLC; a company with five different subcategories- Ginido Fashion, Ginido Groceries, Ginido logistics, Ginido Teller and Saphire Outlook; the MD/CEO of Bisi Akintayo Consult – a consulting and training firm on e-commerce and digital marketing.
WATCH MY RECENT INTERVIEW ON TVC NEWS
You will get to learn how to:
 Start a Successful Online business anywhere in the world.
How successful E-commerce Millionaires play their cards well to earn Millions Monthly.
*How to brand your business and help you stay ahead of your competitors
* Starting your business without Capital
*How to automate your business and allow it to run on auto pilot.
* How to Use Digital marketing to sky rocket your sales
*Step by step approach to start Exportation business
And lots more.
Testimonial From Student that have purchase my courses
"My name is Onyedikachi Ogidinta. I am an entrepreneur. The training course I had was a wonderful one. It opened my eyes to an aspect of business I am interested in. With this I will keep growing my finances. Thank you Madam Bisi Akintayo and Crew".
what I have gained from you in a short time is giving me Joy. Let me say this, I never know how to run a converting Facebook and Instagram ad before I joined your coaching but you won't believe that my last ad is still running on 0.5 naira cost per post engagement. I have numerous testimonies about how I created landing pages myself, designed logo and many more.. The value gotten is far beyond what I paid for and I want to say, God bless you ma'am. .
'The salary I used to earn was too small to meet all of my needs. I keep searching on what to do in other to gain financial freedom, fortunate for me, I saw Mrs. Bisi Akintayo's video online and I decided to go for her training with the little money available on me at that time. The training Course was a life-changing one..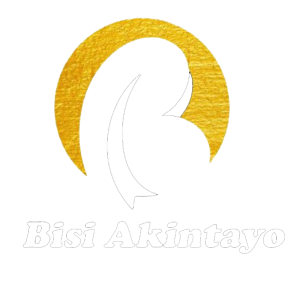 +234 702 500 4706
info@bisiakintayo.com
Address: 309Cl, Ondo street, Banana Island, Ikoyi, Lagos state